Pneumatic Conveying Systems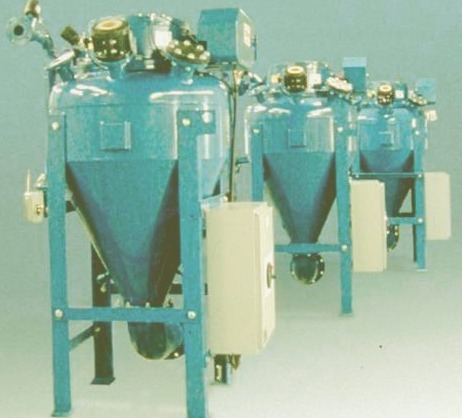 Pneumatic Conveying Systems
Product Code : PCS 01
Brand Name : SANTONI ELECTRIC CO. PVT LTD
We have been successful in making our presence felt in the domain by offering an exceptional assortment of Pneumatic Conveying Systems. These systems are broadly installed in various industries including chemical, pharmaceutical, beverage, food processing and cement for transporting goods from one place to another. In order to manufacture high quality Pneumatic Conveying Systems, our professionals employ advanced machines and utilize quality tested material procured from the authentic vendors.
Key Features:

Energy efficient and superior quality

Easy installation and high performance

Negligible maintenance and prompt delivery
Further Details:

In Pneumatic conveying, which is a material transportation process powdered and granulated materials are moved vertical and horizontal distances with the help of air within a plant premises.
Using either negative or positive pressure of air or gases, the materials that are to be transported are forced through pipes and lastly are removed from the air and are deposited at the required destination.
Benefits of Pneumatic Conveying:

Unlike other conveying methods, Pneumatic conveying, involves no moving parts
The materials travel through pipes - without any chances of contamination, spillages or exposure to the outside factors
Energy efficient procedure
If system is well-designed, it will not pollute the environment
Little maintenance required
Except ducting, which can be on the walls or underground, very few parts need to be installed
Saves space, where required

Various Methods of Pneumatic Conveying:

Lean Phase Conveying: In this case the material to gas ratio is extremely low. It can be a negative or positive pressure system.

Dense Phase Conveying: In this case the material to gas ratio is comparatively high. Extremely high positive pressure is employed in this case.

Factors Influencing Pneumatic Conveying Design:

Nature of Material: Some materials are extremely "free-flowing while others are not. It is more convenient to transmit free-flowing materials. Similarly some materials are hygroscopic or sticky, or flammable. The system needs to be designed keeping in mind the properties of the material.
Particle size: Size of a particle is an important influencing factor for the design of a pneumatic conveying system. But this is not so that the smallest particles are the most convenient to convey.
Bulk Density: This is another factor that determines the power necessity of the system.
Air retention: Identical materials in terms of particle size, bulk density, etc. would act so differently that a pneumatic conveyor can be a great success with some and might fail compeltely with the other.
Capacity required: The system is designed keeping in mind a specific material flow rate - tons/hour.
Distance involved: Consumed energy by a pneumatic conveying system is directly proportional to the distance the material has to be conveyed over - but the vertical distance is different from the horizontal distance.
Number and type of bends: More energy is consumed by a bend duct than a straight duct.